What is the Difference between API 5L line pipe and AS 1579
TPCO
The review is based on submerged arc welded pipe of diameter ranging from 324mm OD to 1829mm OD and pipe wall thicknesses from 5mm up to 13mm.
My overall conclusion is that both Standards are suitable for specifying fit-for-service pipe suitable for the application. My additional comments are:
1. API 5L is an oil and gas industry Standard directed at that industry using the practices of that industry. Its use for water is incidental to its main use to convey oil and gas. It is silent on the effect of the pipe and its coatings on water quality. It covers a wide range of widely different kinds of pipe and is written principally by pipe manufacturers. Pipe purchasers rarely use it without specifying supplementary requirements, both for pipe supply and for pipeline design. It is intended for use with pipe intended for field welding, and its dimensional tolerances are such that experienced well-equipped field welding contractors are required. It does not include fittings such as bends, scours, tees etc and it is an implicit practice that pipeline deviations will be achieved by cold field bending and/or induction bends.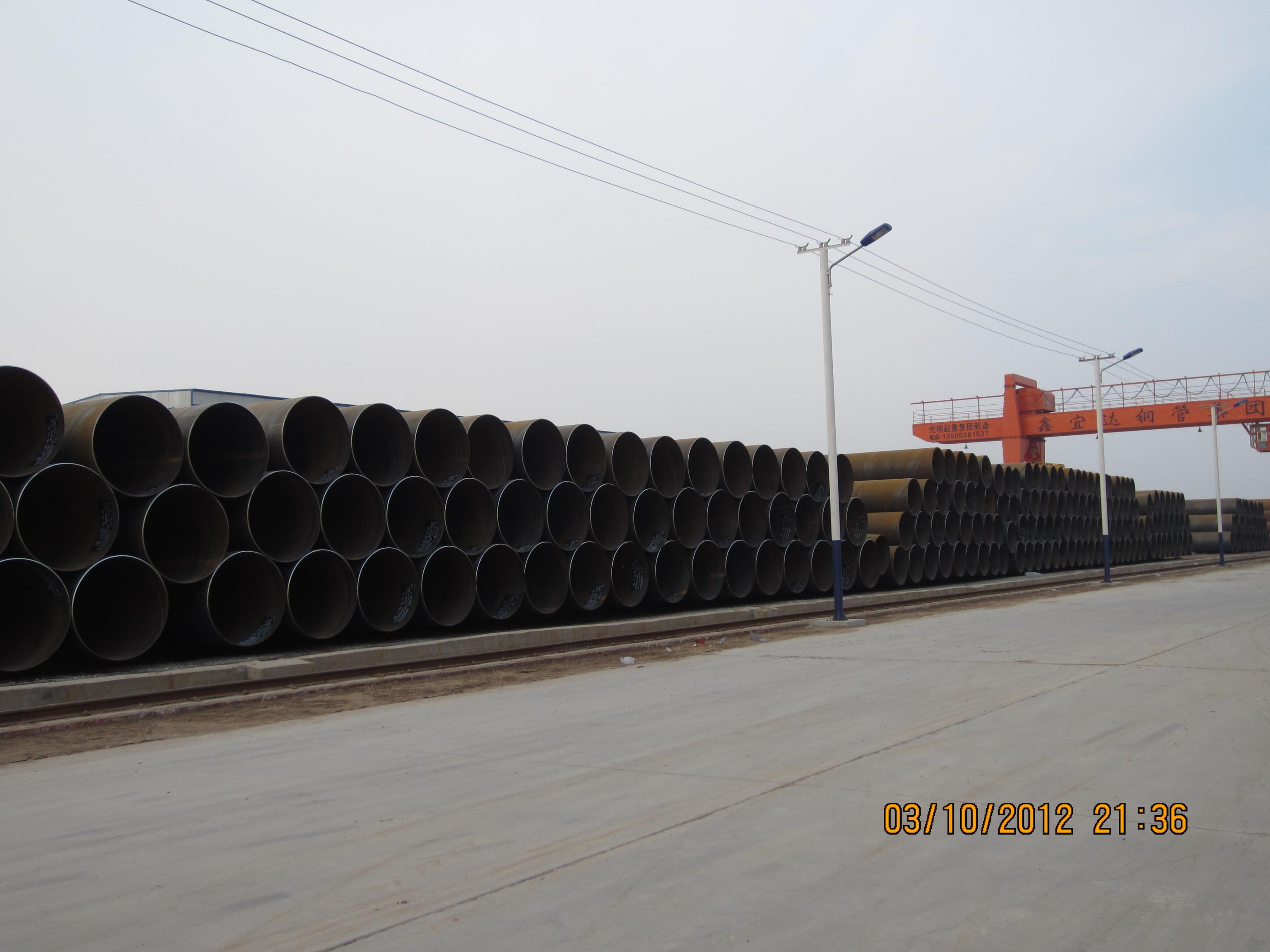 2. AS1579 is a water industry Standard having input from manufacturers but dominated by users of the pipe. It is a specialised and more complete Standard and covers aspects of pipeline design such as rated pressure. It covers fittings and non¬welding joining systems as well as the pipe, and specifies performance and assembly tests in order to demonstrate the compatibility and effectiveness of the joints and fittings. It also covers the effect of pipe coatings and linings on the quality of water conveyed. The efficacy of the Standard and the fitness-for-purpose of pipes produced to it over a long period of time in Australia are attested to by documents produced by customers of Tyco Water.
No.

Item

API 5L 42nd Ed

AS1579-2001

Comments

1.

Constitution of the Standards Committee

"…under the Jurisdiction of the Committee on Standardization of Tubular Goods…"

The representation on SAI Committee WS/9 is listed in the front of AS1579.

WS/9 includes representatives of all water supply Authorities from around Australia, all of whom rely upon the Standard for the purchase of pipe. There is only one major Australian pipe supplier, Tyco Water, and in practice, although the committee works on a consensus basis, the committee is dominated by user interests.

It is widely accepted that API 5L is dominated by manufacturer interests, and it is for this reason that it is rarely used for major projects as a single and sufficient Standard without supplementary requirements.

2.

Scope/Purpose of the Standard

for use in conveying gas, water, and oil in both the oil and natural gas industries "

"■ for the conveyance of water and wastewater at rated pressures up to 6.8MPa and for use as piles ■"

API 5L is an oil and gas Industry Standard primarily intended for pipe conveying oil or gas, and is specifically aimed at the oil and gas industries.

AS1579 is a specialized water industry Standard.

Both Standards are suitable for the specification of pipe for water pipelines, but in my opinion, AS1579 is more complete when used for pipe for water pipelines. The use of API 5L needs supplementary requirements to be specified. The term "single and sufficient"describes this condition where all or most of the minimum requirements are met in the one Standard and no supplementary technical requirements need to be specified by a purchaser in order to ensure a fit-for-purpose product.
3.

Effect on water

Silent

Contains requirements and methods of demonstrating suitability when used in contact with water used for human consumption.

AS1579 is designed to ensure that the pipe, including any coatings and/or linings, do not impart unacceptable taste, odour, appearance, or toxic properties to water. This includes any cement mortar lining supplied as part of the pipe supply contract. Care needs to be taken that equivalent performance is given by any field applied coatings and linings where potability is a requirement.

4.

Rated

pressure

Silent

72% SMYS (or NMYS) and 80% of mill hydrostatic test pressure up to a limit of 6.8MPa.

AS1579 is a combined pipe manufacturing and pipeline design Standard.

API 5L is a pipe manufacturing Standard and leaves pipeline design to other Standards. However it is normal to use API 5L pipe at pressures up to 72% SMYS. Some design Standards such as ASME/ANSI B31.8 allow maximum allowable operating pressures above 72% SMYS, but the pipe used in such cases would never be purchased to API 5L alone without supplementary requirements.

5.

Hydrostatic

testing

Requires hydrostatic testing at 90% SMYS.

Requires hydrostatic testing at 90% SMYS (or NMYS) i.e. 1.25 times rated pressure.

See later comments on strength testing and leak testing.

6.

Coating and lining

Silent

See Item 2above. Provides reference to coatings and linings suitable for use in water pipelines.

AS1579 pipe is customarily intended for the application of water industry specific coatings and linings, including e.g. cement mortar lining applied whilst spinning the pipe. Pipe made to the limit of the straightness tolerance in either Standard may not be suitable for the application of linings applied by spinning the pipe.
7.

Method of manufacture

Covers a wide range of manufacturing methods including seamless and welded pipe, using several different welding methods including methods that use filler metal and those that do not.

Covers arc welded (usually submerged arc welded) pipe.

API 5L is a complex Standard covering many products in different forms for different applications. AS1579 is a specialised Standard covering submerged arc welded pipe and fittings for use in water pipelines.

8.

Standard

sizes

(Diameter)

Uses ISO standard sizes on outside diameter.

Allows all diameters, including ISO Standard sizes

This review is limited to submerged arc welded pipe of diameter ranging from 324mm OD to 1829mm OD.

AS 1579 allows more scope for design as pipe sizes include ISO sizes and all sizes in between.

9.

Standard

Size

(Length)

nominal 12.0m minimum 4.27m min. av. 10.67m

Ordered length +/- 0.0075m

(<5% +/- 0.3m when advised)

The variation in length is generally much greater with API 5L pipe.

10.

Wall

thickness

tolerance

API wall thickness tolerances are complex. The individual pipe wall thickness tolerance is + 19.5%, -8%. However in practice the over tolerance would never be supplied for commercial reasons, and the under tolerance could not be supplied because of weight tolerance limits.

Areas repaired by grinding are required to be within the -8% limit.

For 5mm ± 5% For 6mm ± 4.5% For 8mm ± 3.6% For 10mm ± 3.2% For 12mm ± 3.0%

This review is limited to submerged arc welded pipe with wall thicknesses from 5mm up to 13mm.

The AS1579 limit is derived from the steel specifications from which the pipe is made.

11.

Other

dimensional

tolerances

Roundness, ovality, and end squareness primarily affect field welding. See comments under item 13 Field Joints.
12.

Fittings

Provides coverage of the use of special couplings such as Dresser and Victaulic used primarily by the oil industry. Does not cover fabricated bends, tees and other water industry fittings.

Covers typical water industry fittings such as bends, tees, offtakes, and scours and provides compatibility between pipe and fittings.

13.

Field

joints

"■ plain-end line pipe meeting this specification is primarily intended for field makeup by circumferential welding "

Covers pipes intended for field joining by welding, flanged joints, elastomeric seal (rubber ring) joints and others.

The field jointing methods for the AS1579 welded joints include spherical and other slip in joints capable of providing angular deflections between adjacent pipes.

AS1579 specifies assembly test requirements for all joint types and specifies Type Testing for elastomeric seal joints in order to demonstrate functionality.

Special care needs to be taken with the field welding of API pipe. Although the specified dimensional tolerances make it possible for experienced welding contractors to make good joints using the right equipment, inexperienced contractors operating without the correct internal line-up clamps etc may experience delays and difficulties when the pipe is at the limit of specified tolerances.

The dimensional tolerances such as body diameter and out of roundness are very commonly made much more stringent in API 5L users' supplementary specifications.

14.

Field

weldability and field

welding

IIW Carbon equivalent equal to or less than 0.43

IIW Carbon equivalent equal to or less than 0.40

Field welding requires experience, care and great skill.

The make up of elastomeric seal (rubber ring) joints also requires care and skill, but there are much fewer variables affecting the outcome, and careful operators without a craft/trade background can be trained to make good joints within a short time.
1.1 Technical
Since first commencing work on the Snowy Mountains Scheme in 1963 I have specialised in the manufacture and engineering integrity of pipelines and other welded structures including quality assurance, non-destructive testing, welding processes and weldability, fracture safety assessment, and aspects of corrosion and corrosion protection.
Special emphasis has been given to the solution of problems affecting productivity and integrity through multi-disciplinary applied research programs. Two major lasting contributions to enhanced productivity in welding through research have been achieved. The first was an increase of 50% in the output of
上一篇:seamless line pipe VS welded steel line pipe